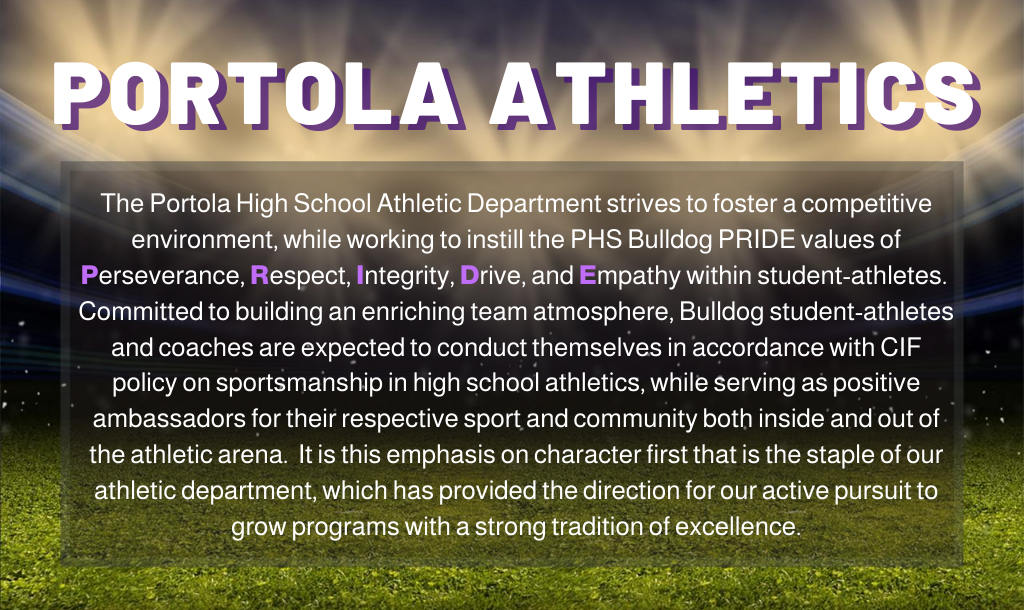 Follow us on social media for important updates!
| | |
| --- | --- |
| | |
athletics and covid-19  
Update as of 8/10/2020 - Statement from the PHS Athletic Department clarifies state guidelines to resume sports camps and practices for IUSD effective Monday, August 27th 2020. Click HERE to review the statement.
Update as of 7/22/2020 - This week the California Interscholastic Federation (CIF) announced changes to  2020-2021 sports calendars due to the ongoing COVID-19 pandemic. Sports will be postponed for the fall and commence again starting in December, assuming it is safe to do so at that time. Here are some of the highlights of that announcement:
The regular three seasons of sports will be condensed into two seasons, Fall and Spring
Fall sports will start in December and Spring sports will start in March
Fall sports will consist of Cross Country, Football, Boys and Girls Volleyball, Boys and Girls Water Polo and Traditional Competitive Cheer
Spring sports will consist of Baseball, Boys and Girls Basketball, Boys and Girls Golf, Boys and Girls Lacrosse, Boys and Girls Soccer, Softball, Boys and Girls Swim, Boys and Girls Tennis, Track and Field, and Wrestling
The seasons will allow for pre-season and league competition, and includes CIF playoffs and one State playoff game
Athletes will be allowed to participate for their high school team and their club teams for this year only during the season of sport
Summer time rules will be extended from the start of school until the official start date for winter sports
This sports calendar was developed with input from all state section commissioners and state officials. We are hopeful that it allows enough time for the current COVID-19 crisis to subside. However, this athletic calendar also allows for some flexibility based upon the available data prior to the start of each season.
Here is the link for the CIF State Media release. You may reference the CIF Southern Section Sports Calendar here.
2020-21 Athlete Clearance Process
ATHLETIC CLEARANCE: Create account of log-in to athleticclearance.com and start a new clearance for PortolaHS (CIF-SS) and the 2020-21 school year. Please be sure to complete all requested fields

Make an appointment for a sports physical conducted by a licensed medical professional (i.e. your primary care doctor), and UPLOAD completed form to athletic clearance account (IUSD Physical Form)

REGISTRATION: Complete Athletic Registration Form (bit.ly/PHSregistration)

Print/sign/UPLOAD the 2x NEW Covid-19 waivers directly to the form

CONFIRMATION: Once you have completed your athletic clearance online and uploaded the 2x waivers on the athletic registration form, please print/sign/email a copy of your physical and athletic clearance confirmation page to Marci Boden (marciboden@iusd.org). She will notify you via email once clearance is complete. 
NOTE:  You must be cleared before participation in any summer camps, tryouts, practices, or games/contests (NO EXCEPTIONS).  Clearance can only be issued by the Athletic Department!
---