SENIORS 2021
We are excited to provide you with information related to Senior activities, Final Exams, and our Graduation plan. Please note that although it is our intention to follow this plan, as with all situations this year, circumstances may require us to modify it as we get closer to the actual date.
Senior Gala
Portola High School is extremely excited and hopeful that we will be able to have an outdoor Semi-Formal Senior Gala on the evening of Saturday, May 22, on the PHS campus.  We are working now to determine allowable activities, safety precautions, and the total cost.  Once these details are finalized we will provide information to students on how to purchase tickets. 
Seniors - Textbooks and Chromebook Return
Seniors will receive a PHS check-out card on 5/20 or 5/21 depending on their cohort through their 4th-period course. This card will be completed by 6/2 to receive the cap, gown, and graduation tickets during graduation rehearsal. Completion will include final grades, senior survey, textbooks, Chromebooks, athletics, and any outstanding fines accumulated. Seniors can begin returning any textbooks and Chromebooks to the Learning Commons on Monday, May 24 from 8 am – 1 pm. To allow for proper safety precautions, please follow this schedule which is organized by the last name:
Seniors - Final Exams
Senior Final Exams will take place during their class periods the week of 5/24 - 5/28.
Seniors - Final Week of School
Seniors who need to make-up a Final Exam will individually schedule them with their instructor during the final week of school. All graduation requirements must be completed prior to the graduation ceremony in order to participate. Students who have questions about their ability to satisfy the graduation requirements should contact their academic counselor. Below is the final week schedule for seniors who complete all of their exams and requirements.  
The graduation ceremonies will take place at the Portola High School Stadium at 3:00 pm and 6:00 pm on June 3.  Due to the detailed spacing requirements and spectator limitations it is highly likely we will graduate students by alpha cohort, however, we are still exploring other possible configurations.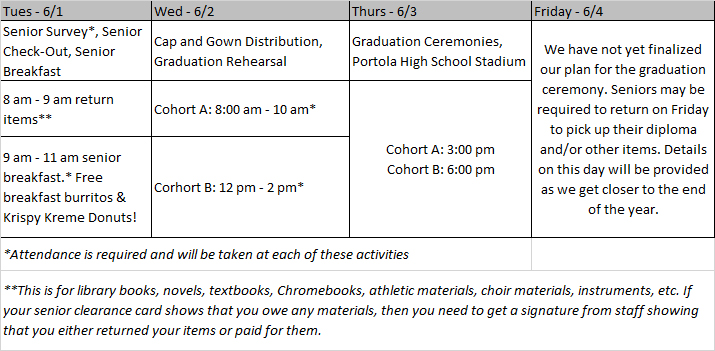 IVA SENIORS
IVA Seniors will receive their PHS Senior Clearance Cards on 6/1 and it will include their IVA teachers' signatures and "pass" or "fail." This is due to receive their cap & gown, tickets, and to participate in graduation, plus to receive their diploma. Attendance is mandatory on 6/1 & 6/2.
cap, gown, tassel & CORD
If you did not order your cap and gown during the regular window please be advised you will be able to purchase those items during cap and gown distribution for 40 dollars.  Cash only accepted as payment.
For GPAs 3.75 and above Portola awards a special cord to wear with graduation gowns—they may not be purchased, only earned. If you did not receive this cord during senior awards, then please see Ms. Howard in the Administration building to pick up yours (outside of the health office). If you are an IVA student who has earned a cord, then please pick up yours from Ms. Whitt at the Reception desk.
PHS Graduation Speeches
Thank you to all who submitted a speech by the May 4th window, if  you submitted a speech for consideration you will be reached out to by Mr. Hernandez to set up an appointment.